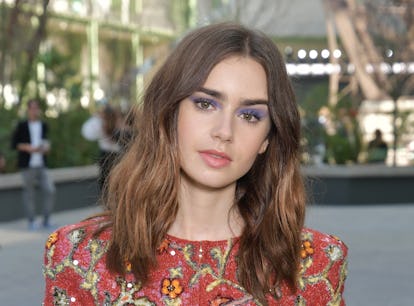 Lily Collins' Quote About Her Past "Toxic Relationship" Is Heartbreaking
WWD/Penske Media/Getty Images
Content warning: This story contains mention of verbal and emotional abuse. Lily Collins is happily married to Charlie McDowell now, but she had a previous relationship that wasn't as healthy. During a Feb. 8 episode of Glennon Doyle's We Can Do Hard Things podcast, the Emily In Paris actor opened up about her past "toxic relationship," and her story was devastating.
"For me, my romantic toxic relationship was verbal and emotional abuse and being made to feel very small," Collins told Doyle, per Page Six. "He would call me 'Little Lily'…and he'd use awful words about me in terms of what I was wearing and would call me a wh*re and all these things." According to Collins, his treatment caused her to feel "panic" and "anxiety."
"There were awful words and then there were belittling words. I became quite silent and comfortable in silence and feeling like I had to make myself small to feel super safe," she explained. "When prey felt threatened they made themselves as small as possible, possibly by not eating, by making themselves look as least juicy and enticing as possible and that's where they felt the safest." (Collins opened up about her eating disorder after acting in the 2017 film To The Bone, which focused on a girl struggling with an eating disorder.)
In the episode, titled "How to Find Good Love After Bad," Collins compared her past romance to her current marriage. "The situations are completely different 10 years ago to now," she said. "That panic is what I can still get triggered by."
Collins, who married McDowell in September 2021, told Doyle that those memories still come up for her. "Even if I'm in the most healthy relationship, there can be a moment that happens throughout the day where history comes back like that," she explained. "It's like a millisecond, or shorter than a millisecond, and your gut reacts, your heart starts beating, and all of a sudden you're taken back to that moment where they said that thing to you 10 years ago, but you're not in that situation now and that's the trigger and it's f*cking hard. it's awful."
Fortunately, she's not in that situation anymore. "Now in my life, having my wonderful and supportive husband, we do communicate and talk about so much," Collins said.
If you or someone you know is experiencing domestic abuse, call 911 or the National Domestic Violence Hotline at 1(800) 799-SAFE (7233) or visit thehotline.org.