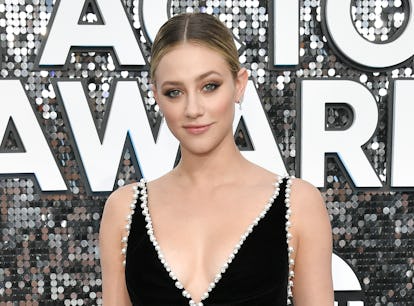 Lili Reinhart Is So Done With "A-Holes" Hating On Riverdale For Clout
Variety/Penske Media/Getty Images
The internet really has a love-hate relationship with Riverdale. Either you think its completely ridiculous storylines involving alternate dimensions, superpowers, and organ-harvesting cults are utter nonsense, or you embrace them as the height of camp. For that reason, any unhinged new Riverdale clip that finds its way to social media tends to get roasted, and that happened in a big way when the trailer for the final season dropped. As haters celebrated the series coming to an end, Lili Reinhart responded to the negativity in no uncertain terms.
Riverdale released the full trailer for its upcoming seventh and final season on March 2, and the video really is peak Riverdale. There's time travel, an orgy, and 30-year-old actors claiming to be high schoolers. I won't bore you with the details of how Cheryl Blossom destroying a world-ending comet with the combined superpowers of her friends caused the universe to revert to 1955 — (mostly because I don't understand it either) — but suffice it to say, Riverdale will be going out with a bonkers, completely absurd bang.
However, the popular response to the trailer wasn't people delighting in the ridiculousness of it all, but rather celebrating that the show was finally over.
Over the years, as Riverdale continued chugging along in an era where it's become more and more common for beloved shows to get prematurely axed, it's become something of an internet punching bag. Crushed TV fans would lament their favorite show ending after only a season or two by complaining that Riverdale was still on after several seasons of questionable storylines. This was probably the energy fueling all the celebratory posts about the seven-season teen drama finally coming to an end.
But Reinhart wasn't having it. The day after the trailer dropped, Reinhart shared a pointed message to her Instagram Stories: "Assh*les saying 'can't wait for the show to end,' like, babe, why does the show have such an impact on your life that you feel the need to make a public comment about it?" She finished her observation with a succinct dismissal: "Run along now."
To see what all the fuss is about, tune into the final season of Riverdale on Wednesday, March 29 on The CW — even if only to hate-watch it.