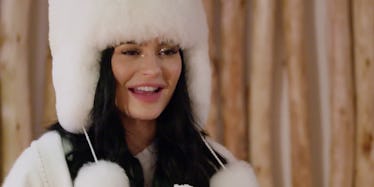 'Life Of Kylie' Trailer Teases Kylie Could Get Married On The Show, So You May Want To Watch
E!
Things are about to get pretty wild on Kylie Jenner's new reality series. Life of Kylie just premiered, and its first episodes promises to give viewers a more authentic look at how the reality star and lip kit mogul really behaves. The "coming up this season" teaser at the end of the premiere definitely delivers on that promise, revealing Kylie will open up about her new relationship, confront businesses trying to counterfeit her lip kits, and most eyebrow-raising of all, the new Life of Kylie trailer even includes a wedding!
In the midst of all the stuff coming up this season on Life of Kylie, we see Kylie in a low-key wedding ceremony dressed in a large, fluffy white hat and a drape-y white robe. The marriage seems to be just a fun little goof, though, since Kylie is shown saying "I do" to her BFF Jordyn Woods, and not her current boyfriend rapper Travis Scott. Still, it's all too real for momager Kris Jenner, who sternly tells Kylie to get the marriage annulled after the ceremony.
So like... Why would Kris be freaking out about an annulment if the wedding was just a joke? Kyliel did refer to Jordyn as pretty much her only real friend in the premiere episode, and Jordyn said she often feels like she's in a relationship with Kylie.
The new trailer also reveals Kylie's love life will come up later in the season, which has been famously complicated over the past year. At the beginning of 2017, Kylie ended things with her boyfriend of two and a half years Tyga, who is also the father to the child of her big brother's on-again-off-again fiancé Blac Chyna. Since the high-profile breakup, Kylie has been dating rapper Travis Scott, but she hasn't spoken much about her new relationship. It sounds like we're finally going to get the scoop on Life of Kylie, though.