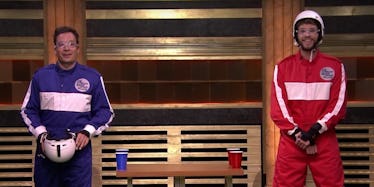 Liam Hemsworth Playing On A Slip'N Slide Is All You Need To See Today
YouTube
This video of Liam Hemsworth and Jimmy Fallon sliding around Slip'N Slides and playing flip cup has higher stakes than any basketball game Steph Curry's ever played in.
Hear me out: Liam Hemsworth is drenched. Nothing gets me on board for a new game like a soaking wet Liam Hemsworth.
The 26-year-old Australian actor stopped by "The Tonight Show" on Monday night to promote his upcoming film, "Independence Day: Resurgence."
Liam and Jimmy, clad in red and blue jumpsuits, tested out a new game called "Slip And Flip." Basically, the rules are as follows: Slide down the Slip'N Slide, take your shot, flip your solo cup and repeat six times. The first one to finish wins.
I was not expecting this to be as fun to watch as it was, but it was an incredibly tight race. First Liam was ahead, then Jimmy, then Liam, then Jimmy and finally, Liam came away with the victory.
So, Liam is the current reigning champion of Slip And Flip, since the game has only been played once (as far as I know).
But not for long. I'm already searching Amazon for Slip'N Slides.