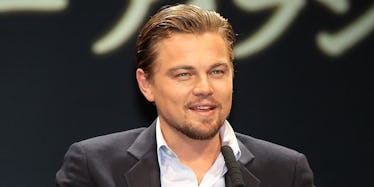 Leonardo DiCaprio's Former Assistant Reveals What It's Like To Work For Him
Getty Images
I have to be honest, I think my job is pretty great.
I get to write about fun stuff on the Internet all day and hang out with a bunch of young people. I brag about it all the time, and I'm very content with my life at this moment.
But, there's actually a job that totally kills mine. Like, it destroys everything I've ever done with my life.
Someone actually gets to live his or her life as LEONARDO DICAPRIO'S PERSONAL ASSISTANT. LIKE, OSCAR-WINNING, BLONDE, BEAUTIFUL, TALENTED LEONARDO DICAPRIO.
Actress Kasi Brown was Leo's personal assistant during the filming of "The Aviator" in 2003. She sat down with Huffington Post to fill the world in on her life-changing experience.
Kasi first got introduced to Leo and her job through a friend who also worked as his assistant. She traveled to Canada during the filming of "The Aviator" and hung out with Leo and her friend. Wow, it doesn't sound like networking was too stressful for her.
Kasi landed the gig when filming was in Los Angeles because she already met Leo through their mutual connection.
Now, when I envision life as Leo DiCaprio's personal assistant, I picture a pretty damn good life. Like, you get to hang out with Leo all day and stare into his big, beautiful eyes.
WHAT COULD BE BETTER THAN THAT? Nothing. According to Kasi, being Leo's assistant sounds like nothing.
She told Huffington Post,
Leo and I always had fun on set... [We loved] to observe people and goof around playing characters, doing accents, whatever.
OMG, Leo doing accents? I can't. I literally can't.
Kasi added,
Sometimes, I would pretend that he was the stereotype of an entitled celebrity and when he would ask me to do something, I would bow and in a beaten-down voice say, 'Yes, sir, anything you like sir, anything else, sir?' and he would laugh and tell me to knock it off.
OMG, Leo laughing and joking around? I am dead.
Kasi said she learned a lot about Leo as a person on screen and off screen. She also said he's a private person who's very intelligent and funny.
She shared,
He's extremely down to earth, and he likes to share stories and life experiences with people.
Leo, you can tell me about your life experiences any time you want. Really.
Additionally, it sounds like Leo and Kasi remained in contact, and it seems he helped guide her in the professional world.
Um, well, yeah. I do love my job, but if Leo needs a new assistant, my resume is ready to be sent his way.
Citations: This Is What It's Like to Be Leonardo DiCaprio's Assistant (Elle), Here's What It's Like To Be Leonardo DiCaprio's Assistant (Huffington Post)