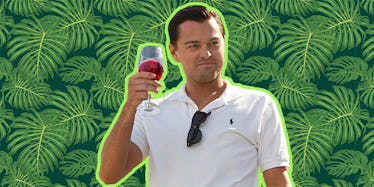 Leonardo DiCaprio Threw The Most Epic Party And The Guest List Was Insane
Shutterstock/Paramount Pictures
It's been three whole years since Baz Luhrmann's "The Great Gatsby" moved audiences to say, "Eh, yeah it was fine, I guess," but Leonardo DiCaprio has decided to remain Jay Gatsby eternally.
Leo invited guests to St. Tropez on Wednesday evening for his annual Leonardo DiCaprio Foundation Gala, where the 41-year-old raised $45 million for environmental causes, E! News reports.
Attendees included Bradley Cooper, Jonah Hill, Mariah Carey, Kate Hudson, Adrien Brody, Bono, Chris Rock, Edward Norton and, like, all of the models.
This year's event featured performances by The Weeknd, Lana Del Rey and Andrea Bocelli. Artwork by Jeff Koons, Pablo Picasso and Urs Fischer was auctioned off to the celebrity guests.
A painting by Oscar-winner Adrien Brody raised over $275,000, because some people are blessed with multiple astounding talents, while the rest of us mostly missed the toilet seat this morning.
Last night marked Leo's third time hosting the event, though the foundation has been working to preserve the Earth and its inhabitants since 1998.
A portion of this year's proceeds went to GiveforFrance.org in the wake of the Bastille Day attacks in Nice, according to PEOPLE.
The Oscar winner added a personal touch by auctioning off the cufflinks he wore -- and probably intentionally stabbed himself with to manage anxiety -- the fateful night he finally took home an Academy Award for "The Revenant."
Citations: Bradley Cooper, Jonah Hill & the World's Hottest Supermodels Attend Leonardo DiCaprio's Foundation Gala: Watch! (E! News)