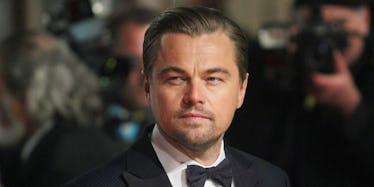 Leonardo DiCaprio's New Rumored GF Proves He's Still Winning The Dating Game
BEI/Shutterstock
In the most on-brand move of all time, 41-year-old Leonardo DiCaprio was recently seen out on the town with a 20-something model.
The Oscar-winning actor was on a maybe-date with Roxy Horner, 24, who is a fashion model based in London. The two were spotted getting dinner at Serendipity 3 in New York City.
Leo's dating game may be sketchy AF, but at least he knows how to pick a romantic restaurant. Fans of the 2001 romantic comedy "Serendipity" know what I'm talking about.
An anonymous source told PEOPLE Leo and his date came in together, had a surreptitious dinner and snuck out. But other sources say it was a group dinner with friends.
He has that Oscar now, so time for Leo to get back to his favorite hobby. He is consistent, I'll give him that.
Roxy's Instagram confirms she is, indeed, beautiful, young and a model.
Yep, that's Leo's type, all right!
He is a man who knows what he wants, and what he wants are gorgeous models in their 20s.
*Whispers* Run, Roxy. You deserve so much more.
Even if it wasn't a date, I hope Leo and Roxy tried the frozen hot chocolate while they were there. John Cusack said it was delicious.
(And John Cusack's lady friend wasn't half his age -- just sayin'.)
Citations: Leonardo DiCaprio Spotted Getting Cozy with Model Roxy Horner (PEOPLE)