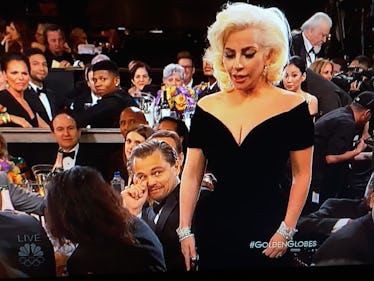 Leo DiCaprio Threw Major Shade At Lady Gaga During The Golden Globes
NBC
Ah, awards season. Isn't it the greatest?
There's something just so captivating about watching a room full of celebrities sitting together, nervously waiting to see if they won an award.
It's clear by now that America's favorite person to watch during awards season is Leonardo DiCaprio. The 41-year-old star has been acting for most of his life, but really doesn't have too many trophies by his bedside. Poor guy.
Well this year, the Countess Lady Gaga just won her first Golden Globe for her role on "American Horror Story: Hotel." This was also her first nomination, so it was pretty exciting and emotional.
As Lady Gaga was walking up to get her award, she happened to brush shoulders with...you guessed it...our boy Leo. Except, something super f*cking awkward happened.
Award For "Best Side Eye" Goes to...
Can someone PLEASE tell me WTF is happening here? Is Leo crying? Is he laughing? WHAT'S GOING ON?
Congrats on your award, Lady Gaga. Love, Leo.