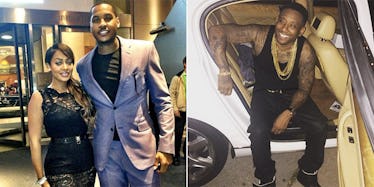 La La Allegedly Cheated On Husband Carmelo Anthony With A Rapper
If the pressure of carrying the Knicks wasn't enough for Carmelo Anthony to deal with this upcoming season, allegations of his wife, La La, cheating on him with a rapper might be the breaking point.
According to multiple reports, the celebrity host, who's been married to Melo since 2010, reportedly went to the movies with another man (possibly the rapper Maino) earlier this week, and that's when his reported baby mother called her out.
One woman went on an Instagram rant this week claiming her baby's father was having an affair with La La.
While she does not make it clear exactly who her baby's father is, people on Instagram are all pointing toward Brooklyn rapper Maino.
This video of La La riding in the car is suspected to be from the day she went out with a rapper.
Nah man this video really upset me. Like Melo my brother. pic.twitter.com/3Uo9ZPiphU — Larry Legend (@larryislegend) August 20, 2015
More recently, the same account followed up to confirm she wasn't upset, just exposing the truth.
Whether or not La La actually cheated on Melo with Maino remains to be seen. However, she definitely has some explaining to do.
For those of you who remember, Melo almost came to blows with Kevin Garnett two years ago when he suggested he was having an affair with La La, reportedly claiming she tastes like "Honey Nut Cheerios."
While neither Carmelo nor La La made a statement about these allegations yet, it would surely be a blow to what seemed like one of the happiest couples in sports.
Let's just say Melo dealt with temptation himself in the past but has always (at least publicly) been able to stay faithful.
Wonder if Melo regrets not taking this shot when he had the chance now. pic.twitter.com/uqT3sKcZlN — Basketball Forever (@Bballforeverfb) August 20, 2015