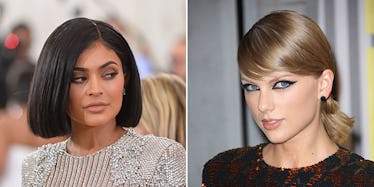 Kylie Jenner Basically Calls Taylor Swift A Liar In New Snapchat Video
REX/Shutterstock
The drama continues! Kylie Jenner threw major shade at Taylor Swift in her Snapchat videos over the weekend.
The 18-year-old reality star hasn't really voiced her opinion on the feud between her sister Kim Kardashian and the 1989 singer, but these snaps prove she's obviously team Kimye.
In the first video, Kylie checks herself out on the cover of Allure's August issue. She explains how she never gets to see her magazine covers in person, so it was a very exciting moment for her.
She tells her followers,
I'm fan-girling! This makes me so happy, I never get to see these in person.
However, it doesn't look like her magazine cover is the focus of the shot.
Right when the video begins, Kylie Jenner has the camera focused on a tabloid of Taylor Swift's face with the word "LIAR" in big, yellow letters.
DO YOU SEE WHAT I'M SEEING? Kylie is throwing major shade Taylor's way.
Her fans know it too. You're not fooling anyone, Kylie. We know what's up.
Kylie then added a second Snapchat of just her Allure magazine cover. LOL, WHY COULDN'T SHE HAVE JUST POSTED THIS IN THE FIRST PLACE?
Oh right, because she wants to call out Taylor for her phone call with Kanye West about his song "Famous."
Sorry Tay, Kylie's got her sister's back on this one.