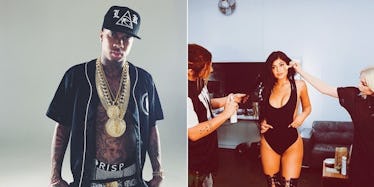 Kylie Jenner Reportedly Offered $10 Million To Make Sex Tape With Tyga
In the least surprising news of all time, several adult film companies are allegedly trying to recruit Kylie Jenner to make a sex tape with Tyga.
TMZ reports Vivid Entertainment, the same company said to own the rights to Kim K's infamous sex tape, is offering the barely legal Jenner sister $10 million to film herself with Tyga doing sex stuff.
Vivid isn't the only company apparently trying to sign Kylie to produce X-rated content.
TMZ says BangYouLater sent Kylie a $1.8 million offer for a 22-minute video, claiming its production would make her "even more famous than either Kim K or Paris Hilton."
You hear that kid? You're gonna be a stah! A huge stah!
Digital Playground is also trying to get in on the action though its approach seemingly goes beyond just offering her a ton of money.
Reportedly, Digital Playground wrote to Kylie saying,
Now that you are of legal age, we would like to offer you the opportunity to be Digital Playground's Brand Ambassador! We know you'll be great at this and with your banging body to match, maybe you'll be interested in becoming an adult star yourself! Join DigitalPlayground.com and be welcomed into a new, hornier family.
*Shudders.* *Never stops shuddering.*
Brazzers also kind of tweeted an offer to Jenner, and I don't know why, but I somehow expected more maturity from a porn site's Twitter account.
With an offer like this, how could you NOT sign up?!
Hey @KylieJenner now that you're finally 18, how about putting those lips to good use? — Brazzers (@Brazzers) August 10, 2015
Brazzers sure knows how to make a woman feel special.
By the way, yes, you should feel weirded out reading all of this. Kylie just turned 18, and these sleazeballs foaming at the mouths to get her naked and on camera are honestly just the worst.
Also, let's all take a second to remember the only reason this is news is because several years ago Kim K and Ray J filmed themselves having sex.
Literally, nobody would care about anything the Kardashians do if it wasn't for Kim and Ray J's acumen with a camcorder while in the throes of passion.
Haven't the Kardashians/Jenners given enough to the porn industry?!?!
Leave Kylie alone!
Citations: Kylie Jenner Tyga Update Youngest Jenner Offered Millions To Make Sex Tape With Tyga (International Business Times)