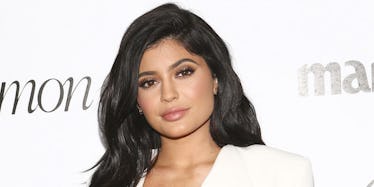 Kylie Jenner Just Ditched Her Long Hair For This Gorgeous New Look
REX/Shutterstock
Kylie Jenner spent the day with her long-time friend Jordyn Woods yesterday for some quality bonding time, which apparently involved face masks, manicures, hair treatments and other beauty regimens.
Out of all the upgrades to her look, the biggest attention-grabbing part of Kylie Jenner's makeover is her fresh new haircut that she debuted on Snapchat today.
Ladies and gents, take a good look at the Kylie Jenner we once knew.
Enter Kylie Jenner Summer '16.
Today, Kylie took to Snapchat and Instagram to show off her new beauty transformation. It appears Kylie has officially dropped her long locks in exchange for a sleek bob that just might make fashionable, trendy women everywhere book hair salon appointments ASAP!
According to Teen Vogue, Kylie Jenner's major makeover involved the removal of her extensions.
Once the extensions were tossed away for good, Jenner was given a chic, chin-length cut.
Out with the old, in with the new.
Here's the finished look.
Now, I'm not sure how long this will last, but it's good to see the 18-year-old switching up her look. After all, Kylie's known to change it up on us nearly every week.
Here's Kylie just under a year ago sporting a braided, highlight look.
Then there was blonde Kylie...
...and her icy blue wig phase.
And this isn't the first time Kylie's had a bob cut, either. She also sported a similar look at the Met Gala back in May.
To make a long story short, she changes her look quite often! So, how long will her new chin-length 'do last? Time will certainly tell, but for now, let's just enjoy short-haired Kylie!
Citations: Kylie Jenner Snapchats New Short Haircut (Teen Vogue)