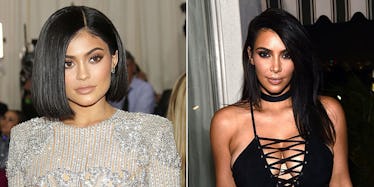 Kylie Jenner And Kim Kardashian Just Revealed Their Biggest Beauty Mistakes
REX/Shutterstock
No one knows Kylie Jenner better than her big sis, Kim Kardashian. The two are not only sisters but best friends.
This week, the "Keeping Up With The Kardashians" ladies sat down with Allure Magazine to talk about their beauty secrets.
Except, rather than Allure asking the questions, Kim interviewed her little sis about her makeup tips and tricks.
In the hilarious interview, we learned quite a lot about Kim and Kylie... like the fact Kylie steals all of Kim's clothes. UGH, SISTERS!
The best part, however, might be when both women revealed their biggest beauty mistakes.
Kylie went first. The 18-year-old confessed she went a little overboard when she got lip enhancements. She told Kim,
Well, I definitely made my lips a little too big at one point.
She added,
I got excited and felt like I needed to do a lot. And then you guys were like, 'Kylie, you need to chill.' And then I had to go back and have it fixed, and it was a crazy process. Thank God I didn't end up on 'Botched.'
LOL. It was a crazy day when the world was first exposed to Kylie's new face.
Kim has beauty mistakes too, you guys! Celebs really are just like us! Kim shared,
Remember when I lasered my baby hairs? I had awkward baby hairs on my forehead, and every photographer used to photoshop them out. Sometimes I get really envious of your baby hairs because I think they're more youthful. I overanalyze it all the time.
Come on, Kim. Embrace those baby hairs!
I think we've all made our fair share of beauty mistakes in the past. In middle school, I got my black hair dyed with bright blonde highlights and everyone at school called me "pisshead."
I feel you, Kim and Kylie. I know your pain.
Citations: Kim Kardashian Kylie Jenner Beauty Secrets (Allure)