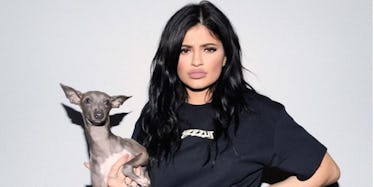 You'll Never Guess How Many Instagram Likes Kylie Jenner Got In 2015
You know that excited feeling you get when you break 100 likes on an Instagram photo?
Take that, and multiply it by ten thousand (!), and that's what Kylie Jenner feels like every time she posts a picture.
On Sunday, the reality TV star posted a collage of her most-liked photos of 2015, along with a tally of the total number of likes she's received on the social media site this year: 1,057,803,339 (yeah, that's over a billion).
That absurdly high number averages out to be about one million likes per picture, of which she posted an incredible 960 in 2015. Makes your social media presence look like a joke, doesn't it?
Kylie's "best nine" of 2015 includes a selfie with her high school diploma, several scandalous bikini shots, and a glam pic of her and boyfriend Tyga at mother Kris Jenner's "Great Gatsby" themed birthday party.
Check 'em out, below.
Citations: Kylie Jenner Got a Staggering Number of Instagram Likes in 2015 (Cosmopolitan)