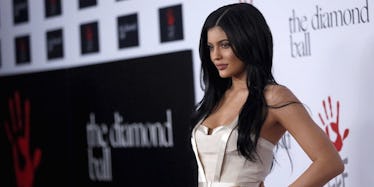 This Australian Designer Says Kylie Jenner Copied Her Look For Coachella
REUTERS/Mario Anzuoni
You know it's Coachella season when every single social media news feed is covered with flower crowns, flash tats and floppy hats.
Around this time every year, it's basically impossible to avoid seeing the influx of festival photos. I mean, did you even attend Coachella if you didn't post 24 pics of you in front of a ferris wheel?
Don't worry, Kendall and Kylie Jenner uploaded their fair share of photos, too.
In the past 48 hours, Kylie's entire SnapStory has been closeups of her in bikinis, monokinis and rainbow braids. She's covered all angles of her looks, so her followers can take note of all her festival outfits.
Now here's where things get interesting. It seems as though Kylie actually copied a look from an Australian designer instead of coming up with it herself.
The designer (@BritDay121 on Instagram) uploaded a photo of a sequin swimsuit she wore two weeks ago next to a photo of Kylie wearing the same look at Coachella.
Brit apparently wore the Discount Universe bikini to the Rabbits Eat Lettuce festival in New South Wales.
The designer captioned the photo,
When the babe'n @kyliejenner steals your look!!
The tone of the caption makes me think Brit isn't too mad about Kylie copying her style, but is actually rather flattered.
The outfit is pretty identical, down to the pink hair. In my eyes, everyone looks the same at Coachella anyway, but maybe Kylie owes the designer a bit of credit for inspiring her festival look.
Or maybe Kylie just saw it on Pinterest. Who knows. Either way, I'm excited to see what other outfits the Jenner sisters wear before the festival is over.
Citations: Kylie Jenner Coachella Outfit (Teen Vogue)