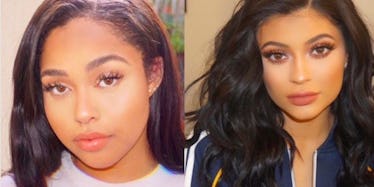 Kylie Jenner Is Being Accused Of Stealing Her Looks From Women Of Color (Photos)
It's been said imitation is the sincerest form of flattery.
However, you might want to stay away from copying others when you're constantly in the spotlight. If you don't believe me, just ask Kylie Jenner.
The Internet is throwing a lot of shade at the youngest Kardashian sister this week.
So, what's the reason this time?
Apparently, a lot of people think Kylie is jacking the looks of several black ladies, and this isn't the first time she's been called out for cultural appropriation, either. Earlier this year, Kylie was accused of replicating Heather Sanders' hairstyles and poses.
Now, people are calling Kylie a copycat again, and there's even a post going around Tumblr that suggests she's trying to steal Jordyn Wood's look.
But it doesn't stop there; the same Tumblr user also posted photos that show an uncanny resemblance between Kylie and other women, like her boyfriend's ex Blac Chyna.
Over the past year, it seems like Kylie Jenner really upgraded her sense of style.
However, some people think that's because she's been stealing all of her looks from other women.
More specifically, women of color.
Last year, Kylie was under fire for copying her friend Heather Sanders.
Now, the Internet is accusing her of trying to be a Jordyn Woods lookalike.
There's this post on Tumblr that compares a bunch of Kylie and Jordyn's photos...
And it's not hard to believe Kylie snagged some serious style inspo from Jordyn's braids, mermaid hair and long, blonde locks...
 ...as well as her makeup and signature poses.
 If that's not bad enough, Kylie is also being called out for copying Tyga's ex Blac Chyna, and the same Tumblr user posted photos showing Kylie with all of Blac Chyna's hairstyles.
 Now people are accusing her of cultural appropriation on Twitter...
The facts of the matter are : Kylie Jenner appropriates black culture and looks really stupid doing it, just let her look like an asshole. — SJW MOM (@ObamaMomma) September 30, 2015
And telling her she needs to stop being a copycat...
Every time I see Kylie Jenner's Snapchat, I wonder, why does she think she's this ghetto fabulous black girl? Ugh. Ridic. — CJ Skittles (@BKLYN_BSB_BABE) October 2, 2015
...while others are coming to her defense and saying she just wants to look like her big sis.
I saw a picture of kylie jenner and honestly thought it was Kim — briony (@Melbournesjai) October 2, 2015
Citations: People Think Kylie Jenner Is Basing Her Look On These Women Of Colour (BuzzFeed)