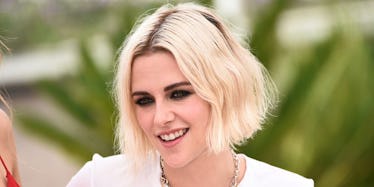 Kristen Stewart Just Confirmed She's Dating A Woman With The Cutest Comment
REX/Shutterstock
Kristen Stewart hasn't tried to hide the fact she's less-than-straight in the past, but now she is openly talking about her girlfriend for the first time.
In an interview for the September cover story for Elle, the 26-year-old actress spoke frankly about her love life, which currently involves dating film producer Alicia Cargile.
Kristen said,
Right now I'm just really in love with my girlfriend. We've broken up a couple of times and gotten back together, and this time I was like, 'Finally, I can feel again.'
Awww.
Many had speculated on Kristen's sexuality in the past, and while the actress said she never felt the need to officially "come out," she is also not trying to hide anything.
Last year, her mother, Jules Mann-Stewart made a comment many took as a confirmation Kristen and Alicia were dating.
This is the first time Kristen herself has opened up about the relationship.
It sounds like the two have had their ups and downs, just like any relationship.
However, Kristen acknowledged the one crucial difference between dating a woman vs. dating a man: dealing with public response.
She said,
When I was dating a guy I was hiding everything that I did because everything personal felt like it was immediately trivialized, so I didn't like it. We were turned into these characters and placed into this ridiculous comic book, and I was like, 'That's mine. You're making my relationship something that it's not.' I didn't like that. But then it changed when I started dating a girl. I was like, 'Actually, to hide this provides the implication that I'm not down with it or I'm ashamed of it,' so I had to alter how I approached being in public. It opened my life up and I'm so much happier.
Kristen was most likely referring to her relationship with her former "Twilight" co-star, Robert Pattinson.
It's great to hear she's found love again and that she and Alicia are going strong.
Citations: Kristen Stewart Opens Up About Girlfriend Alicia Cargile: 'Finally, I Can Feel Again' (People)