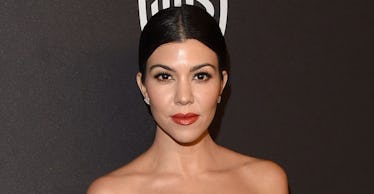 8 People Who Look So Much Like Kourtney Kardashian It's Actually Freaky
Getty Images
I feel like Kourtney is the Kardashian sister who always keeps it real.
She's never afraid to give her honest feedback or let her family know when they're pissing her off.
She tells it like it is, every damn time, and that's why she's my hero.
LOL, KOURT, YOU KILL ME.
The 36-year-old "Keeping Up with the Kardashians" star has been through a lot over the years.
She had a messy split with Scott Disick, she gave birth to three kids and now she's raising them with help from friends and family.
No matter what Kourtney's been through, it seems like one thing stays consistent. SHE LOOKS F*CKING GOOOOOD.
OK, I mean, so does her entire family.
All of the Kardashian-Jenner sisters have slight resemblances to each other (cough Kim and Kylie), but when you look very closely, some of them actually don't really look alike at all.
To prove this, I've found eight people who look more like Kourtney Kardashian than her own sisters.
Some of these doppelgängers are so insane they'll make you question if you have a long-lost twin out in the world, just like Kourtney.
1. Let's start right here. Can you even tell which pics are of the real Kourtney Kardashian?!
2. Just watch this Dubsmash video and have your mind be totally blown.
3. The resemblance is uncanny in this one. JUST LOOK AT THOSE EYES.
Twinsies.
4. You know Kourtney takes photos like this one all the time. IT'S BASICALLY HER.
5. You have to admit, there are definite similarities here.
6. Even this user's grandma looks like Kourtney.
7. And this guy knows a Kourtney lookalike, too.
8. Kourtney also looks very much like singer Ameriie. Do you see it?