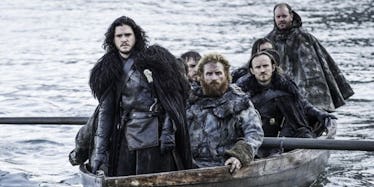 Kit Harrington Says They Filmed "Fake" 'GOT' Scenes To Throw Off Paparazzi
HBO
Calling all Game of Thrones fans: I'm sure you know this already, but it's my job to say Season 7 of our favorite fantasy drama debuts this Sunday, July 16, on HBO.
The hype surrounding the new season is intense and, as is to be expected, we have tons of questions leading up to the premiere. Will Daenerys be successful in her attempt to claim the Iron Throne? Will the White Walkers be successful in their attempts to initiate an eternal winter? And will Jon Snow finally learn the truth about his family?
Kit Harington, who plays Jon Snow on the show, stopped by Jimmy Kimmel Live last night to talk about the season premiere. Despite Jimmy's best efforts to get some Season 7 spoilers from the actor, we pretty much got nothing outta him.
In his interview, Jimmy asks sneaky questions like, "How long before you will go back to work shooting the show?" in an attempt to get Harington to slip up and reveal secrets about his character's fate this season (we all know how GoT loves to kill off our faves from time to time).
Sadly for us, the actor catches on pretty quickly and doesn't really give us much to work with. He replies with,
Ah, well, you see... that was sly, as well. I don't know. I don't know if I'm back in the show.
What our Jon Snow does reveal, though, is that the cast of Thrones has filmed at least three fake scenes recently when they knew there were paparazzi around. Harington said,
What I can say about this season is that we had a lot of paparazzi following us around, especially when we were in Spain. But, we did fake some scenes. We put together people in situations where we knew the paparazzi was around, so they'd take photos and that would get on the internet to fake scenes...
Awesome, so all of those "FIRST LOOK: GAME OF THRONES SEASON 7 BEHIND-THE-SCENES PICS" headlines we saw were most likely BS... well played, GoT, well played.
Jimmy, ever the persistent GoT fan, though, followed with questions about the fake scenes they filmed, to which Harington responded,
If I give you the fake scenes, then you're gonna know... I can't tell you.
He then shut down any ideas we had about this season when he said,
All I can tell you is what you might have seen on the internet might not be true.
Well, as usual, we know nothing. Clearly, we're going to be in for some pretty shocking, dramatic Sunday nights for the next few weeks, but are we really mad about it? No.