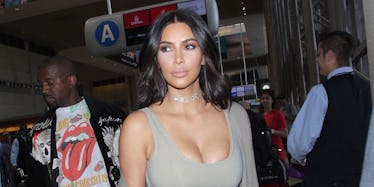 Kim Kardashian Shared The Diet Plan That Helped Her Lose 60 Pounds
REX/Shutterstock
Kim Kardashian's diet sounds super regimented but oddly reasonable.
If you're wondering how Kim K dropped 60 pounds of pregnancy weight after Saint was born in December, a lot of it has to do with her diet.
I mean, sure, based on her Snapchat it's easy to tell her absurd workout schedule also has a bunch to do with it, but a large chunk of the pound droppin' can be credited to her commitment to Atkins 40 (that low-carb thing everyone's aunt did back in the mid-'90s).
She's already spoken about her weight loss journey to People, and now she's giving hard details as to what exactly her diet consists of.
For real, this whole diet seems freakishly "doable."
This is what three days of eating are like for Kim K.
Hydration 48-64 ounces of liquids a day DAY ONE Breakfast: Scrambled eggs with turkey sausage and smoked Gouda 4 oz. Green yogurt with 1/3 cup fresh blueberries Snack: Atkins Harvest Trail Dark Chocolate Cherry and Nuts Bar Lunch: Grilled lime chicken over spinach salad with a feta-ranch dressing Snack: 1 medium carrot and 4 tbsp. hummus Dinner: Lemon thyme halibut with sautéed green beans Total Calories: 1,504 DAY TWO Breakfast: Chicken chorizo and cauliflower sauté with cheese and salsa Snack: ½ small apple 2 oz. cheddar cheese Lunch: Turkey burger with chipotle aioli, tomato, pickles and onions Snack: Atkins Harvest Trail Dark Chocolate Sea Salt Caramel Bar Dinner: Slow roasted lemon rosemary chicken with asparagus 1/3 cup of wild rice Total Calories: 1,561 DAY THREE Breakfast: Hatch green chili, cheese and egg bake with arugula 1/8 of a honeydew melon Snack: Vanilla coffee frappe Lunch: Zucchini noodles with spicy chicken sausage Snack: Atkins Harvest Trail Vanilla Fruit and Nut Bar Dinner: Grilled chicken with cauliflower mac and cheese Total Calories: 1,699
I think the difference between me and Kim Kardashian is we'd both start a diet like this but she'd finish it and I'd have already broken the diet rules by 11:45 am on the first day.
Citations: Kim Kardashian Wests Food Diary What I Eat in a Day (Great)