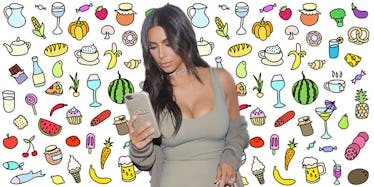 5 Tasty Recipes We're Expecting From Kim Kardashian's Rumored Cookbook
REX/Shutterstock
Say what you want, haters. Kim Kardashian is a woman of many, many talents and successes. From reality TV shows and MILF-filled music videos, to emoji keyboards and Vogue cover stories, the 35-year-old mother of two has done it all -- except for one thing...
And no, it's not a Forbes cover. She's been there and done that.
So, what's her latest venture? *drumroll, please*...
Well, she's never written a cookbook before and there are talks that Kim might actually release one. With Chrissy Teigen and John Legend praising Kim Kardashian's fried chicken, you can't help but wonder what else Mrs. Kardashian West knows how to whip up in the kitchen.
These days, Kim's been getting more and more comfortable with cooking and it's all thanks to Chrissy, John and Kanye's love for her delicious dishes and her super-trendy #SoulFoodSundays meals.
According to Cosmopolitan, Kim's been contemplating the thought of authoring a cookbook filled with scrumptious recipes and she's using Snapchat to gauge her audience's interest in her cooking skills.
A source close to the couple told the magazine,
Kim is starting to cook so much more than she has in her entire life. She's actually considering a cookbook, and she's pretty serious about it. It all started with Kanye's encouragement as he loved when she cooks him food.
Kim is also said to have been consulting with Chrissy Teigen who released her own cookbook called "Cravings."
Hm, it seems like this Kim Kardashian cookbook thing might actually go down... And if it does, here are a few recipes we'd expect to see based on her recent, mouthwatering Snapchats.
Hearty oatmeal and fresh fruit.
Banana pudding.
Seasoned salmon and brussels sprouts.
Egg white frittata with feta cheese and veggies with turkey bacon.
Fried chicken, macaroni and cheese, cornbread and collard greens.
As for a release date on the rumored book? Time will certainly tell. Hopefully Kim can manage to be productive despite little North West putting her hands all over the food.
We'll just have to wait and see if Kim actually decides to make her cookbook dreams come to life. Until then, it probably isn't a bad idea to stick to the starlet's intense diet and workout plan for the rest of the summer. Did you really think Kim stomached all of this food BY HERSELF? Think again...
After all, Kim was able to lose seven pounds in just two days following her new fitness regimen!
Citations: The World Might Get a Kim Kardashian Cookbook Soon (Cosmopolitan)