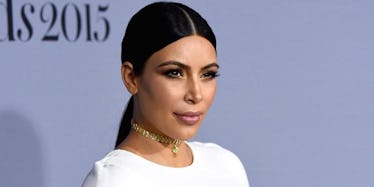 This Is How Much Kim Kardashian Has Changed Over The Past 35 Years (Photos)
Getty Images
RING THE BELLS!!! SPREAD THE NEWS FAR AND WIDE!!! IT IS OUR LORD AND SAVIOR'S DAY OF BIRTH!!!
No, not Jesus.
No, not Obama.
No, not the guy who invented Nutella.
UGH, IT'S KIM, GUYS. IT'S KIM KARDASHIAN WEST'S 35TH BIRTHDAY, OK?!
Born October 21, 1980, Kim began her life as an adorable baby with a full, lush head of hair much like her own future daughter, North.
She matched with her sisters when necessary, but always added her own touch of personality, like this dope red bow.
By the time 1994 rolled around, Kim was the self-proclaimed "dopest on the ropest" teenager in California.
Later that same year, Kimmy's father, Robert Kardashian, began working on family friend OJ Simpson's murder trial.
Kim married songwriter Damon Thomas, aka hubby #1, when she was 19, but the relationship quickly deteriorated.
In 2003, Kim got her first taste of fame as a bestie of Paris Hilton, a then-ubiquitous (and now… dead? Right? Maybe someone should check on her?) reality TV personality.
In September 2003, Kim's father tragically died after a fight with cancer.
After years of playing second fiddle -- or whatever the sexy version of a fiddle is -- to Paris, Kim gained major media attention when her sex tape with ex Ray J was leaked four years after its creation.
Following the release of the video, alternately titled "Ray J Stop Looking At The Camera For One Sec," Kim's relationship with then-boyfriend Nick Cannon ended.
One major benefit of the tape materialized in 2007 when Kimmy and fam were offered the opportunity to star in their own reality TV super hit, "Keeping Up with the Kardashians."
The year 2007 was major for Kim; she also began dating 49er Reggie Bush.
By Christmas 2007, Kim made her way to the cover of Playboy looking like a sensual Mrs. Claus.
These days, Kim hardly ever leaves the house looking as Mardi Gras as she did in this particular spread.
Kim decided to share her love of fitness and motorcycle gloves with the world in 2009 when she released a DVD titled "Fit In Your Jeans By Friday."
In 2009 (and then again in 2010), Kim and Reggie split and she cried… hard.
Love warmed Kimmy's heart again come 2010 when she met Kris Humphries, aka hubby #2. The pair got engaged after six months of dating.
The couple's wedding, on August 20, 2011, was filmed for television and aired on October 9 and 10 in a special titled "Kim's Fairytale Wedding: A Kardashian Event."
Sadly, after a mere 72 days of matrimony, the pair decided "nah, tho" and Kim filed for divorce citing "irreconcilable differences." Tears ensued.
As the divorce proceedings dragged on, rumors of Kim dating close friend Kanye West, aka hubby #FOREVER, went unconfirmed until the pair went public in early spring 2012.
During a concert in December 2012, Kanye announced Kim was pregnant with the couple's first child.
Still bound to Kris Humphries by marriage, Kim fought to finalize her divorce before the birth of her child with Kanye. When the marriage was dissolved on June 3, 2013, Kimmy cried tears of joy (probably).
On June 15, Kim gave birth to daughter North West five weeks early.
Extravagance became the norm for the Kardashian West family and, on Kim's 33rd birthday, Kanye surprised her with a proposal.
The lovers shared the cover of Vogue's April 2014 issue leading up to their nuptials.
Eager to officialize their union, Kim and Kanye gathered their family in Florence, Italy on May 24, 2014 and wed in front of a massive wall of flowers.
Feeling sexy and adventurous, the new Mrs. West channeled Grace Jones on Paper's Winter 2014 cover.
Hype over the photos caused #BreakTheInternet to trend and racked up a whopping 15.9 million views in one day for the mag's website.
Spring time rolled around and Kim decided the best celebration of nature's rebirth was the release of her 325-page book of selfies, titled "Selfish," in May 2015.
Soon after, Kim and Kanye announced they were expecting their second child together, a boy due in December 2015.
Kim has come a long way in her 35 years, evolving with every milestone. Yet today, tomorrow and forevermore, we shall #NeverForget her roots (aka Big Bow Central, USA).
Happy birthday, Kim Kardashian West.