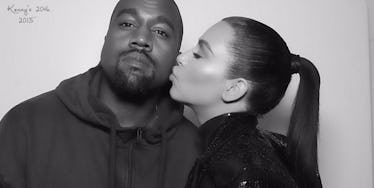 Kim Kardashian Gets Caught Photoshopping Instagram Pics Again
Be honest: Do you really expect photos of Kim Kardashian to appear on her social channels without being Photoshopped?
The reality TV queen was caught doing a bit of personal Photoshopping by very astute fans after posting this photo from sister Kendall's 20th birthday bash:
mom & dad turn up pic.twitter.com/AkMz1ebaGo — Kim Kardashian West (@KimKardashian) November 3, 2015
However, someone on Kim's team accidentally uploaded the altered photo and the original to Kim's Facebook page before quickly deleting it.
But, this being the Internet and all, the original was quickly saved.
Here's a GIF created by a fan to show you the small changes:
As you can tell, Kim decided to reduce her hair bump and her chin just so.
Kim, look, you're perfect, and you're pregnant. Ain't nobody going to judge you for being a little bloated or having a loose ponytail. Just be you.