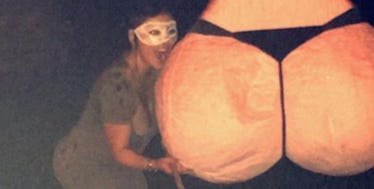 Kim Kardashian's Friends Took Turns Hitting A Piñata Shaped Like Her Butt
Snapchat
Getting a giant piñata resembling Kim Kardashian's outrageous behind is a birthday made, in my book.
Hrush Achemyan, Kim's close friend and stylist, got the gift of her dreams (probably) on Friday when her friends wheeled out the big buns as a surprise.
She turned 29 on July 19, which everyone knows is the year of booty-themed presents.
Here it is, in all its glory:
Daaaamn, piñata got back!
In one Snapchat video, Kim can be heard saying,
Oh my god -- the best piñata ever. Was this not made for me or what? A Kimoji booty piñata.
In another Snap, she adds,
Yep, all Hrush wanted for her birthday was a big booty hoe, and she got it.
I hope it was packed with melted fudge, for effect.
The whole night looked pretty weird. Before they took to the ass piñata, Kim posted a pic on Instagram of the squad wearing scary masks and looking far too serious, considering they were at a party.
Whatever, Kim and her friends can obviously do whatever they want, and do it in style.
PS, the world needs more giant ass piñatas.