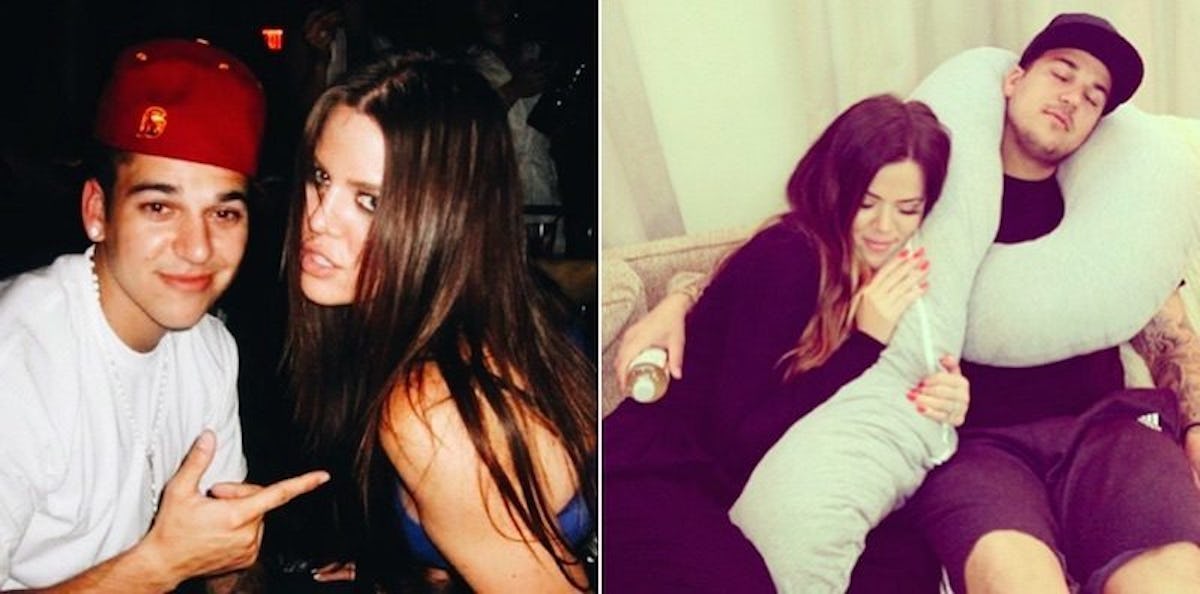 11 Reasons Khloé And Rob Kardashian Are True Sibling Goals (Photos)
Instagram
Siblings, we all have them... unless you're an only child, LOL.
My favorite family, the Kardashians, is made up of so many siblings. The family has Khloé, Kourtney, Kim, Rob and then Kendall and Kylie Jenner. That's a mouthful, isn't it?
Siblings are great. You can steal their clothes, make them buy you beer and piss them off whenever you're bored. What more could you possibly want?
OK, OK, siblings are also great for emotional sh*t, too. They have your back when you need them and are always there to help.
Khloé and Rob (my two faves) are the definition of sibling goals. SORRY EVERYONE ELSE, Y'ALL ROCK, TOO. But Khloé and Rob just have this deep connection that's real AF.
Below are 11 reasons Khloé and Rob are sibling goals. You'll wanna go home and hug your sib after this (or yourself, um, if you're alone).
1. Khloé posted this touching picture of Rob kissing her cheek, and it was the cutest thing in the freaking world.
The caption reads,
If only you could see yourself through my eyes! I'll forever be obsessed with you! My one and only!
That's too precious, I can't even handle it.
2. She called Rob her "one and only" and looked super classy with him in this pic.
3. Khloé was away from Rob for five seconds but missed him more than anything in her entire life.
The caption reads,
I'll never let you carry more than you can hold my sweet brother. Almost home kiddo!
I'M IN TEARS, YOU GUYS.
4. It was Rob's birthday and Khloé publicly confessed her undying love for him with this epic collage.
The intimate and beautiful caption reads,
Happy birthday @robkardashian I would be lost without you!! Thank you for being the best brother anyone could ask for. This year I want to give you the ability to see yourself through my eyes! I want you to own how incredible you are and shine the way you are meant to shine. I love you!!!!
Stop it, I'm a mess.
5. The two pretended to kiss goodbye, and it was TOO CUTE FOR WORDS.
6. They just couldn't stop kissing -- but in a sibling way. It's not weird, it's fine.
7. They snuggled up cozy next to each other, and it was just the sweetest moment in existence.
8. They partied together and had the best time of their lives.
9. They posted this throwback selfie, and it was magical. PS: Check out that green eyeliner. DAMN, Koko.
10. AND ANOTHER THROWBACK. THEY JUST LOVE EACH OTHER SO MUCH, OK?!
11. Khloé calls Rob her "MVP" because that's how important he is to her. This duo kills sibling goals. I LOVE YOU, GUYS.
Citations: Khloe Kardashian Shares a Touching Message to Her Brother Rob Kardashian: "I'll Forever Be Obsessed With You" (E! News)