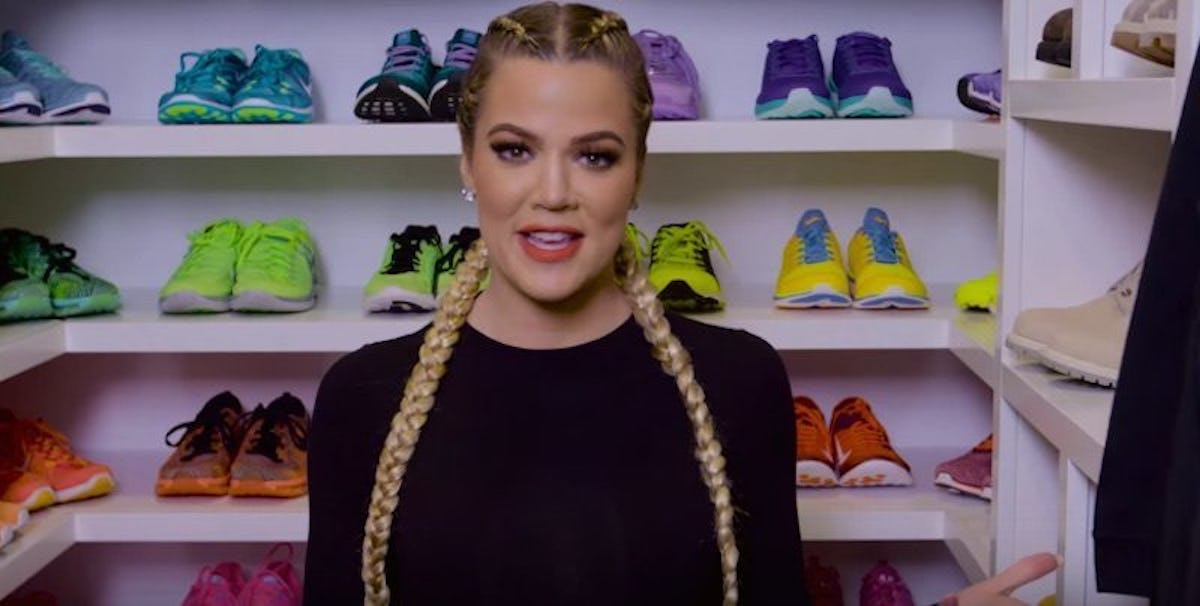 Khloé Kardashian's Color-Coordinated Workout Closet Is The Most Motivation
On Wednesday, Khloé Kardashian gave fans an opportunity to see one of her favorite rooms in her house: her fitness closet.
In a video posted to her app, Khloé gives a brief "Cribs"-style tour of the bedroom-sized closet, which she says is her main source of fitspo.
On one wall, floor-to-ceiling, built-in shelves house KoKo's extensive and colorful sneaker collection, while the other two walls feature tiered hanging racks to hold the star's collection of leggings, tees and track jackets.
The closet's boutique feel is intensified by Khloé's obsessive organizing. Everything is arranged first by type (shirts, shorts, pants), then by style (tank top, short-sleeved, long-sleeved) and, finally, by color, leaving nothing out of place.
I hate working out and even I have to admit KoKo's killer closet makes me want to put on a sports bra and shorts and go out for a "run" (and by that I mean flaunt my/Khloé's cute and expensive exercise attire and do nothing actually associated with running).
Motivation is motivation, right?
Check out Khloé's killer kloset in the video up top.
Citations: Tour Khloé​ Kardashian's Giant Color-Coordinated Fitness Closet (Cosmopolitan)