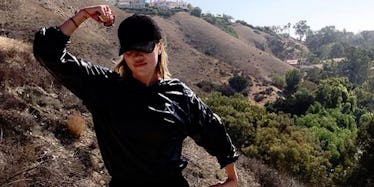 Khloé Kardashian's Epic Hike Will Inspire You To Get In The Best Shape Ever
Snapchat
Just because summer's here, it doesn't mean you should have stopped working out. As a matter of fact, staying fit throughout the summer season is one of the smartest things you can do to set yourself up for year-round success -- and Khloé Kardashian agrees.
The 32-year-old star took to Snapchat on Friday to share sights from an intense afternoon hike in Los Angeles with celebrity personal trainer Don Brooks. Khloé and Don pulled their weight as they fought the summer sun to hike over steep hills overlooking the city.
With a brutal summer heat wave on its way, according to Time, certain parts of the United States may reach record temperatures as high as 110 degrees. In other words, the only way to cool off will be at beaches and pools, where you'll need to feel super comfortable taking your clothes off.
Khloé Kardashian, who has been ALL about her fitness this year, showed no signs of fear as she jogged incredibly close to the edge of the hiking trail -- all to maintain that flawless figure. At one point, Khloé almost gives up and literally tells Don "no way."
Eventually, she mustered up enough strength to power through the epic workout -- and it's inspiring AF.
Khloé Kardashian and celebrity personal trainer Don Brooks spent Friday afternoon crushing an epic hike under the baking California sun.
Though at times Khloé expressed how tired she was, the 32-year-old star kept powering through the pain (and put the whole thing on Snapchat).
Who ever said summertime was for chilling?! NOT Khloé, that's for sure. The grind never stops on the path to greatness.
After a long, exhausting hike under the scorching summer sun, Khloé Kardashian and personal trainer Don Brooks eventually made it to the end of the trail... Then they had to go back the other way!
If you needed ANY motivation to get your ass in the gym (or on insane hiking trails), this is it. Show 'em how it's done, Khloé.
Just before the hike, Khloé posted an Instagram of her and Don working out those abs.
Alright, now who's ready for some lunges and burpees?!