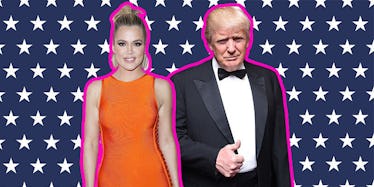 Khloé Kardashian Gets Super Real About That Time She Worked For Donald Trump
REX/Shutterstock
Yes, Khloé Kardashian actually worked for Donald Trump back in the day -- it's true.
In addition, celebrities Clay Aiken, Lisa Lampanelli, and Nene Leakes also worked for Trump. But when? And doing what?
It turns out Khloé and the rest of the gang worked on "The Celebrity Apprentice" where Donald Trump first uttered the words "You're fired" on national television. So, what was it like working with the GOP presidential nominee?
Aiken, Lampanelli, Leakes and Khloé spilled the beans on their 'Apprentice' experience during an episode of Chelsea Handler's Netflix show. The video description reads,
This week, Chelsea brings together Khloé Kardashian, Clay Aiken, Lisa Lampanelli, and Nene Leakes for her very own Trump Boardroom tell-all. The former Celebrity Apprentice contestants spill the beans on what it was like working for The Donald.
Let's just say these former Trump employees didn't hold any punches during their tell-all.
Khloé Kardashian even spoke on how she'd react if Kris Jenner woke up one day and decided to run for president.
While Trump's children are fully supporting his campaign, Khloé reveals that if Kris Jenner ran for President, she may not be as supportive as Ivanka, declaring to Chelsea, 'I just don't know if we're ready for the White House.'
This is too good. Check out the video above for a closer look.
Citations: Khloé Kardashian Recalls What It Was Like Working With Donald Trump (BuzzFeed)