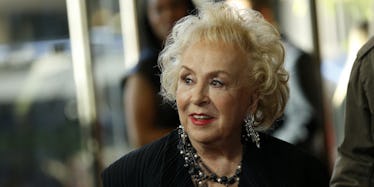 5 Keys To Living A Successful And Full Life, As Told By Doris Roberts
Reuters/Mario Anzuoni
Doris Roberts was a true showbiz legend. Though most people today only remember her nine-year role on "Everybody Loves Raymond," Roberts delighted audiences on stage, on television and in films for over 60 years.
Throughout that time, she was nominated for two SAG awards and nominated for 11 Emmys, which she won five times. In 2003, she was honored with a star on the Hollywood Walk of Fame.
Not only was she admired by fans for her comedic talents, she was loved by many as a friend and colleague. Phil Rosenthal, "ELR" writer and producer, responded to her passing, saying she was a "wonderful, funny, indelible actress and friend."
Actor Dave Coulier said she was dream to work with: so funny and so charming. Her famous co-star Ray Romano said she amazed him, doing everything with such a grand love for life and people.
Clearly, whether you want a long, fulfilling career or just a happier outlook, we can learn a lot from her. Here are five lessons to living life the Doris Roberts way:
Stay Positive
There is a lot of rejection, criticism and competition in the entertainment industry. In fact, Roberts felt that the men in her life never wanted her to succeed. How did she rise above it?
"I don't accept garbage into my life."
She went on to list what she does tolerate: what's real, what's humane, what's kind, what's caring.
Stay Hungry
Roberts stayed committed to her craft to the end, working as recently as last year. She was an advocate for her generation, even speaking before Congress about ageism in 2002.
In 2005, at the age of 80, Roberts told Gary Rutkowski with the "Archive of American Television" that age shouldn't matter. She explained she was healthy, she could run, jump, her brain was working, so, why should she be stopped? She added, "I haven't peaked yet."
"When I go, if there's a tombstone it will say, She doesn't give in. She doesn't give up. And she never takes no for an answer."
Stay Grounded
She understood stardom, often being stopped and thanked on the street after the success of "Everybody Loves Raymond." But that didn't leave her feeling entitled or special. She explained that when you're a celebrity, you can start to think you're entitled to everything and can do anything you want. "Something goes a little wacky in your head," she explained.
"Strangers stop me and say, 'We love you. You're a part of our family.' When you get told that you think, 'I'm really something.' Well, you're not."
Stay Open
In a 2012 interview, when asked about what made her so successful, she answered with a laugh, "I'm old enough to say this now: My talent!" But even reaching the levels of success that she did, she never got comfortable. As of 2014 (at the age of 89!), she was still taking acting classes each week, joking, "I'm going to learn how to act, finally." She explained that she still learns something new every time, urging young actors not to close their brains.
"I'm learning something all the time. That's the way I want it to go, and that's the way I'll go until I am no longer on this planet."
Stay Grateful
Even after the years of work and the struggles against ageism and typecasting in recent years, Roberts was filled with gratitude. She thought it was wonderful that fans would walk up and thank her for her work. She called herself a "lucky son of a gun."
"I can make people laugh and give them another attitude about life. What a blessing that is for me."
It's easy to understand why everybody loved Doris.