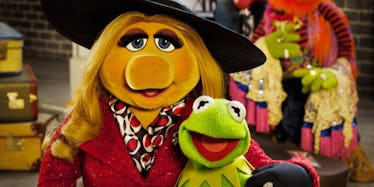 Swipe Left? Kermit The Frog And Miss Piggy Join Tinder After Breaking Up
Walt Disney Studios Motion Pictures
Kermit the Frog and Miss Piggy's Facebook-official breakup hit us hard when it was first announced. In fact, the possibility of a reconciliation was the only thing keeping us going.
But today, our dreams of love were crushed. We have nothing left to live for.
You see, both exes just solidified their newfound singledom in the most offensive way ever: by joining Tinder.
Even worse (if that's possible?), both of the once-smitten Muppets made very obvious jabs at their former lovers in their dating profiles. It pains me to admit, but it seems Kermit and Miss Piggy are really, truly, officially, done.
I implore you to only swipe left on these two. Perhaps by preventing them from meeting other mates, we can bring these two Muppets back together. Right? Right???
Sigh.
If you need me, I'll be mourning.
Citations: After Announcing Their Breakup Kermit The Frog And Miss Piggy Join Tinder (Laughing Squid)