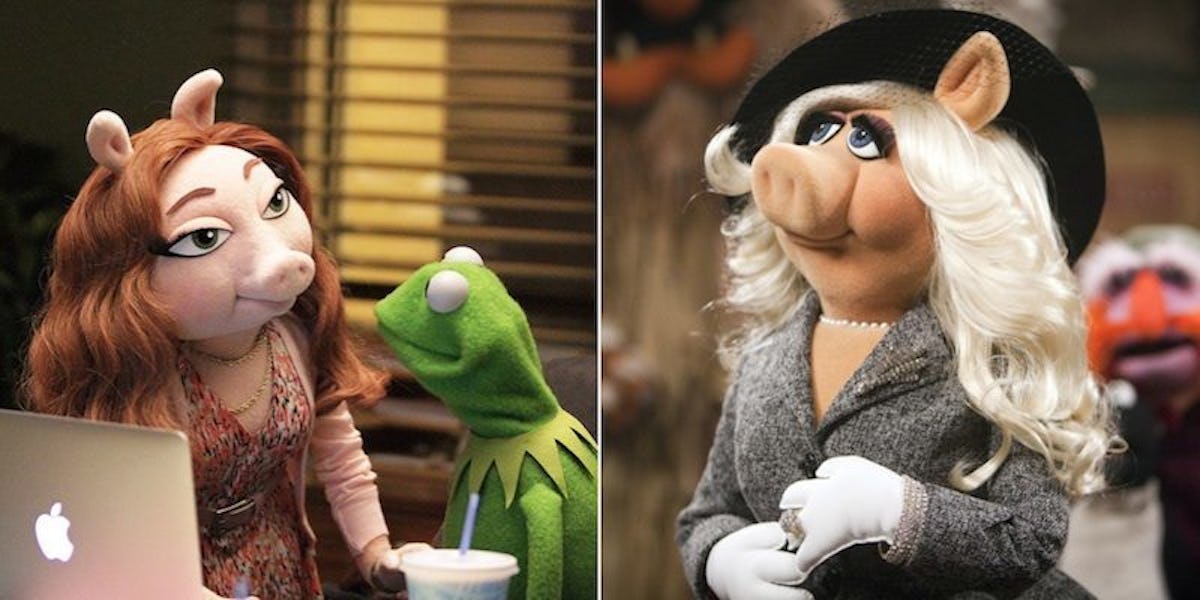 Kermit The Frog Wasted No Time Finding A New Love To Replace Miss Piggy
ABC/Associated Film
Kermit the Frog is just trying to live his life, but the haters can't let that happen.
Freakouts abounded when Kermit announced his breakup with girlfriend of 40 years, Miss Piggy.
Double freakouts are now circulating, a month later, as Kermit appears to be in a new relationship with girlfriend Denise.
What do we know about Denise so far?
1. She works in marketing for ABC, the same company behind "The Muppets," an upcoming series starring Kermit himself.
A work romance is nothing new for Kermit, who performed in film and television with his ex for years.
2. She will appear on "The Muppets."
Denise popped up here and there in promotions for the new show, though it is unclear how large of a role she plays in the documentary-style sitcom.
3. She is a pig.
Kermit either has a VERY specific type, or he isn't entirely over Miss Piggy.
The former lovers will continue to work together on "The Muppets," and time will tell whether Kermit's new boo thang is true love or a cheap substitute.
When originally breaking news of the split, Kermit announced via Twitter,
We will continue to work together on television… However, our personal lives are now distinct and separate, and we will be seeing other people, pigs, frogs, et al.
As for Piggy, she's hardly sitting in a dark room, replaying a worn VHS of "The Muppets Take Manhattan" and wondering where it all went wrong.
The diva was spotted Monday on the Instagram of "The Hunger Games" actor Liam Hemsworth. The actor captioned the photo,
Spent Friday with the most beautiful girl in the world.
Whether Piggy and Hemsworth are something serious or merely a fling, it's evident both Muppet exes are making a serious stab at moving on from each other.
Seeing the entertainment vets -- who have been American favorites since the mid 70s  -- dating other people so publicly is a lot like seeing one's own parents get remarried.
Unfortunately for critics, Kermit and Piggy seem pretty committed to the idea of no longer committing to one another, and their fans will just have to support them.
"The Muppets" premieres Tuesday, September 22 at 8 pm ET on ABC.
Citations: Kermit the Frog's new girlfriend is a pig named Denise (NY Post), FIRST PHOTOS: Meet The Muppets' Kermit the Frog's New Girlfriend Denise (PEOPLE)