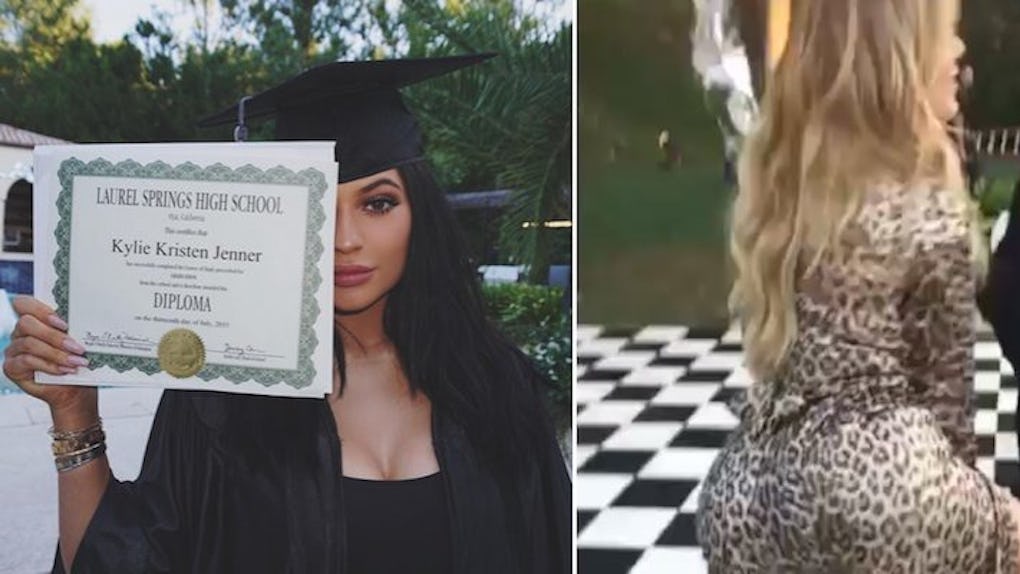 Instagram
Kendall And Kylie's Insane Graduation Bash Included A Ton Of Twerking
This might be the most ridiculous example of extravagance I have ever seen.
Kylie and Kendall Jenner just celebrated their high school graduations (if you were surprised they went to high school, that's OK, so was I), and as expected, it was insane.
Fist of all, the party was hosted by Ryan Seacrest.
Secondly, there were -- among many other things -- synchronized swimmers, a photo booth and multiple food stands.
To be fair, the party was a surprise to the reality show stars: Their family and friends planned the whole thing.
But still, synchronized swimmers?
If you're interested in seeing photos from the ridiculous bash (and I'm sure you are), check them out below.
But, be warned: Major lifestyle envy is imminent.
First, they were surprised with a crowd and lots of applause...
And received loads of lavish gifts...
...including diamond-encrusted Rolex watches that probably cost more than your house.
From what I can tell, all Kylie REALLY wanted to do was take selfies.
And she did...
...all night.
Kylie's supposed boyfriend, Tyga, was there, but honestly, he didn't look too happy about it.
And this chick, who JUST NEEDED TO BE IN EVERY VIDEO, was also in attendance.
Khloé, at least, had fun twerking...
...like a lot of fun.
Kylie danced for a while, too, but not without her phone's camera on her at all times, obviously.
All in all, it looks like they had a super-duper fun graduation party.
See more on Kylie's Snapchat account.
Citations: Kylie Jenners Graduation Party Included Twerking Synchronized Swimmers and a Photo Booth (POPSUGAR)