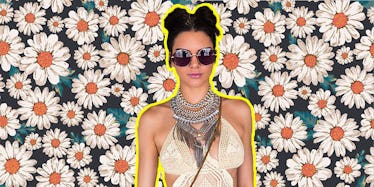 Kendall Jenner May Have Just Confirmed She Has A New Boyfriend
REX/Shutterstock
A$AP Rocky is reportedly joining the likes of Kanye West, Ray J, The Game, Tyga, PARTYNEXTDOOR and French Montana.
No, it's not for best Hip-Hop Album of the Year. It looks like Mr. Rocky (is that correct? Sir Rocky? The Honorable A$AP?) is now a member of the Kardashian Beau Club. 
According to a source, Kendall Jenner and A$AP Rocky are officially an item. 
The 20-year-old model attended the rapper's set at Panorama Music Festival this Sunday, and I think it's safe to say she wasn't only there for the *~festival vibes~* and good eats. 
Kendall even Instagrammed a part of the set -- I think I hear white doves swooning in the background and wedding bells in a far off distance. Too far? Nah.
A source also said the rapper took Kendall to visit Harlem, and the two were out until 1 am galavanting around SoHo like the young, wild and free celebs they are.
Two weeks ago, Kenny J was spotted arriving at a hotel in Beverly Hills with A$AP Rocky. Additionally, the rapper also helped Kendall and Kylie with their Pac Sun clothing line back in February. 
Festivals? Hotels? Clothing lines? Taylor Swift couldn't write a better love story than that if she tried.
Rocky may have a lot of fuckin' prahhblems, but loving bad bitches like Kendall Jenner definitely doesn't seem to be one of them. 
Citations: It's true: Kendall Jenner and A$AP Rocky are dating (Page Six)