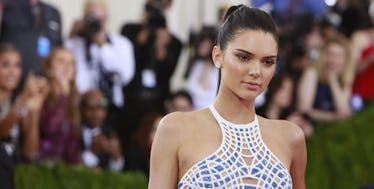 Kendall Jenner Just Debuted Her Newly-Dyed Purple Hair On Snapchat
REX/Shutterstock
It looks like Kendall Jenner is taking after her younger sister Kylie. Not too long ago, Kylie Jenner took to Snapchat to unveil her fresh new hairstyle -- a chin-length blunt bob cut.
Since the minor makeover, Kylie's new look has transformed into this.
This time, Kendall Jenner's showing off her newly-dyed purple hair on Snapchat and I'll admit, it's a pretty solid look for Kendall. Kendall Jenner took to Snapchat on Friday to unveil her new hairstyle with the caption "new hair stylist alert."
So, what was her inspiration behind the new look? She didn't say.
But something tells me it's the work of her new hair stylist!