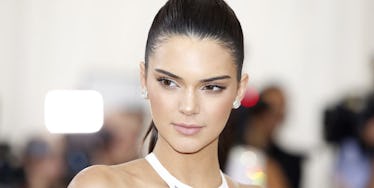 Did Kendall Jenner Actually Post A Photo Of A Drug Baggie On Her Snapchat?
REUTERS
Come on, Kendall.
Kendall Jenner was recently called out on Twitter after she apparently ~unknowingly~ posted a picture on Snapchat of a small baggie commonly used in drug transactions, calling it "the cutest little Ziploc baggie I have ever seen."
Check out a screenshot of Kendall's Snapchat below in a tweet.
Though the image was later deleted as part of Kendall's Snapchat story, it's the internet, so plenty of people took screenshots and started commenting about the bag on Twitter, noting the bag's use for drugs.
I can't believe Kendall Jenner was dumb enough to snapchat her dime bag like at least Bella hadid is smart about her coke addiction — sofa (@sophiarosee_) July 3, 2016
As Complex notes and the tweets highlight, this photo leaves us all with a few possible questions.
Did Kendall Jenner actually just post a picture of a drug baggie? The particular baggie in her Snapchat looks clean, so it's not a question of posting a picture of drugs. It's more a question of Kendall Jenner not being aware of what that bag generally holds.
I mean, she's been to a lot of big parties in Hollywood before; are we really meant to believe she doesn't know what that bag usually carries?
So, either she knows the bag is often used for drugs and chose to post the adorable little baggie anyway, or she legitimately has no idea of this tiny little bag's sordid usage history.
In any case, she's right about one thing: Those tiny Ziploc bags are the "cutest."
Citations: Kendall Jenner Called Out For Posting What Looked Like Cocaine Baggie on Snapchat (Complex)