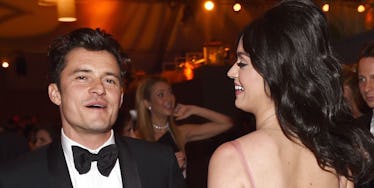 Katy Perry And Orlando Bloom Are The Cutest Couple At Coachella
Michael Buckner/Variety/REX/Shutterstock
What happens at Coachella stays at Coachella, right?  Not so much.
On Saturday, Katy Perry and her new boo Orlando Bloom were spotted at the desert music festival getting real cuddly, according to E! News.
The duo arrived during The Kills' set and, according to witnesses, were acting "very much a couple."
According to the witness:
They were hugging and with a group of other people. Orlando was behind her and swaying with her to the music. They were also vaping together. They were kissing and very much a couple.
It seems like an odd pairing — Perry is so out there, and Orlando is, well, not. But somehow, they work.
Check out some sneaky fan 'grams of Coachella's cutest couple below.
Okay please leave me alone now Katy Perry accounts pic.twitter.com/gj1pOnTSza — Katie (@KHiggy13) April 16, 2016
Citations: Katy Perry & Orlando Bloom Show PDA at Coachella 2016 (E! News)