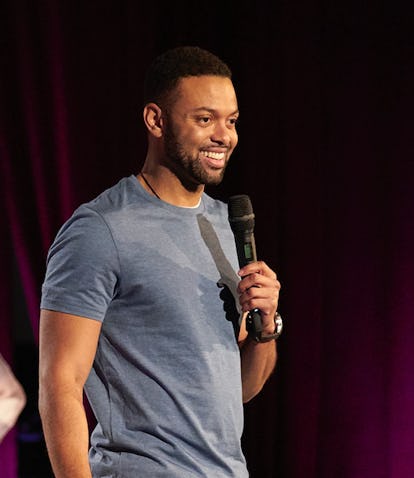 Katie's Bachelorette Cast Basically Unionized Against 1 Guy & Twitter Lost It
ABC
Katie Thurston officially sent a Bachelorette "villain" packing in Week 3. But it wasn't just Karl Smith's Bachelorette elimination that had fans tweeting frantically. It was the June 21 rose ceremony as a whole (which, yes, led to his departure from the show) that included one of the wildest moments in recent memory.
During Week 2, Karl alienated pretty much every other guy in the house with his intense attempts to win Katie's heart. He gave a wild lecture about what he assumed the Bachelorette did or didn't want in a lover during a group date and kept referring to the show as some kind of competition. (Side note: Don't settle for someone who refers to your relationship as The Hunger Games, y'all.)
But tension between Karl and his fellow contestants reached a fever pitch when he pulled Katie aside at the next cocktail party and claimed some of the men weren't there for the right reasons. It was a vague, transparently manipulative comment to make, and the rest of Katie's men decided to band in an effort to remove Karl from their midst once and for all.
When Katie began handing out roses at the start of the June 21 episode, Mike P. spoke up after she handed him his rose. "This isn't something that we want to do right now, because of what you've gone through," he told her. "But we feel, as a unit, that it's our job to protect your heart. And we've come together in solidarity. And we think that, unfortunately, what Karl said wasn't the truth. And as a unit, we feel that's what we feel you need to hear."
Although Katie later admitted she'd planned on keeping Karl around for another week before Mike's speech, she chose to trust her guys. By the end of the rose ceremony, Karl was sent packing and Twitter absolutely lost it over the whole ordeal.
This may not be the last fans see of the Season 17 Union Of Bachelorette Men. Later on in the June 21 episode, Thomas Jacobs stirred up some drama among the other contestants when he admitted he'd thought about gaining a platform and even becoming the next Bachelor when joining Katie's season. So, if Karl's warning about one of the guys being there for the wrong reasons ends up being correct, it may be time for the men to join forces all over again.
The Bachelorette continues on Monday, June 28, at 8 p.m. ET on ABC.