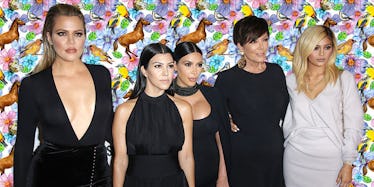 The Kardashians Just Went On The Most Epic Family Outing
REX/ Shutterstock
No 82nd birthday celebration would be complete without a trip to the racetrack.
In the pre-internet age, our parents' parents would entertain themselves by watching tiny men ride horses in a dusty circle over and over and over again. Sometimes they'd even bet money on which horse could run in a circle the fastest! Anyway, yeah, the past sucked pretty hard.
To honor Grandma MJ, a woman whose eight decades of life yielded the most famous family of the internet age, the Kardashian/Jenner clan followed Monday night's San Diego birthday party with a day at the Del Mar racetrack on Wednesday.
Though Kendall couldn't make Monday's festivities, she made sure to drop by the track and snap a photo with her momma's momma.
Kenny also filmed footage of the trip for her Snapchat story, cake and all.
Scott Disick showed up, but maybe just for the salad?
During the trip, Khloé Kardashian got some top-shelf Snapchat footage of Lordy D's custom loafers.
Not in attendance were Rob Kardashian and Kylie Jenner.
Kylie hung back in Calabasas for a sleepover with her besties.
The girls got CrAzYyYyy and talked about their favorite potato products.
Rob, who also skipped MJ's birthday dinner on Monday following a major fight with expectant fiancée Blac Chyna, was hopefully home cuddling with his baby-momma-to-be.
Citations: Kardashians Attend the Horse Races in Epic Fashion: See Some of the Twinning Looks! (Entertainment Tonight), Daily Mail