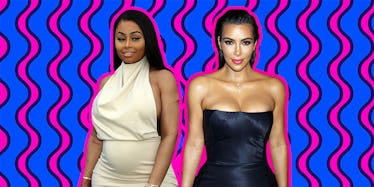 Kim Kardashian Did The Cutest Thing To Blac Chyna In This Snapchat
REX/ Shutterstock
Three VERY important things:
1. It's goin' down in San Diego.
2. Kim Kardashian West and Blac Chyna are embracing their impending sisterhood.
3. Did you hear about San Diego? Because it's goin' down there.
Chyna and Kim joined the rest of the Kardashians in San Diego on Tuesday night to celebrate the 82nd birthday of Kris Jenner's mother, Mary Jo Shannon.
Kim's brother/Chyna's fiancé Rob didn't make it following the couple's fight Monday, but MJ's party raged on with Scott Disick and Kourtney and Khloé Kardashian.
With their drama buried so deeply in the past no even remembers what it was about anymore (Tyga/Kylie/Amber/Kanye/general issues with shaming and appropriation/never 4get), Kim gave Chyna and her pregnant belly some love.
The tender exchange was captured on Snapchat and also documented the moment we discovered, incontrovertibly, whether or not it was goin' down in San Diego tonight.
Spoiler: It is.
If Chyna and Rob are going to get married and raise a child together, they're definitely going to have some blow-up fights. It's reassuring to know even when he's too busy sulking, the Kardashian sisters have her back/belly.
Citations: Kim Kardashian Rubs Blac Chyna's Pregnant Belly In New Snapchat (Refinery 29)