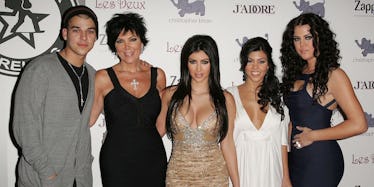 The Whole Kardashian Family Got Together And Threw Rob A Birthday Party
Getty Images
A little drama ain't gonna keep the Kardashians apart.
The famous family got together for Rob Kardashian's birthday on Saturday, effectively squashing all rumors of Rob being "disowned" by his siblings for his relationship with Blac Chyna (Tyga's ex and baby mama).
Utilizing their brand spankin' new Snapchats, Kim and Kourtney — along with Snapchat Queen Kylie — documented the St. Paddy's Day-themed party on social media, proving once and for all this family is as solid as ever.
Check out the evening's highlights below.
The dress code of the night: all green everything.
Custom-made "Robert" confetti let everyone know who the man of the evening was...
...even though the kids really stole the show.
The guys of the family showed their bond in this adorable Snap.
And the birthday boy got his face on a cake.
The St. Patrick's Day decor really livened the party up.
Even Kanye couldn't help but smile…
…well, for a second, anyway.
Overall, it looks like the Kardashian family (minus Khloé and Caitlyn) had a wonderful time.
And Rob looked better — and happier — than ever.
Happy birthday, Rob!
Citations: Yahoo!