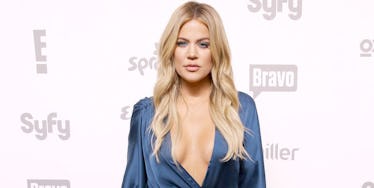 Khloé K Posted A Throwback Pic Of Her And Rob With The Sweetest Message
Getty Images
As much as they want what's best for Rob, the Kardashian family isn't super on board with this whole Blac Chyna situation.
Rob Kardashian was always an outsider in the "Keeping Up with the Kardashians" universe.
The 28-year-old brother never took to the spotlight in the same way his sisters did, a fact often magnified by his struggles with depression and weight gain.
He made improvements in his life, though, since he started dating makeup guru Blac Chyna.
He's been seen around town hitting the gym, he reportedly hired a personal chef to help him deal with his problems with food and he was even spotted on social media smiling like his old self.
But, has Blac Chyna actually been good for him? His family doesn't exactly think so.
Khloé made this very clear, posting a passive Instagram picture of her and her brother last night with the caption,
It's simple.....I miss you.
A source close to the situation confirmed a clear rift, telling Us Weekly,
Khloé feels majorly betrayed by Rob after she always stuck up for him. She feels like this is a major blow to the family. Nobody in the family likes it.
Can't we all just get along?!
Citations: Khloe Kardashian Tells Rob Kardashian I Miss You (Us Weekly)