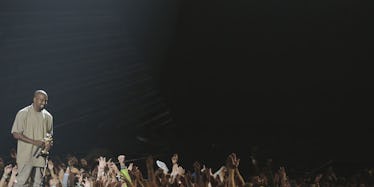 Kanye West Shut Down New York City Last Night After His Show Got Canceled
REX/ Shutterstock
Kanye West effectively shut down a small chunk of NYC last night.
If you were in New York over the weekend with a Gov Ball wristband and internet access, your Sunday was a roller coaster ride of emotions.
Early in the afternoon on Sunday, organizers of Randall's Island's annual music festival, which has slowly morphed into a yearly depressing rainout/drug cautionary tale, made the tough call to cancel the third day of the festival over weather concerns.
No NYU student backpack sweat. No overpriced Wafles & Dinges. And most importantly, no Yeezy, who was set to close out the festival on Sunday night.
In lieu of his Gov Ball performance, Kanye headed over to MetLife Stadium to jump on Hot 97's Summer Jam stage with some other G.O.O.D. Music signees because if you're Kanye and life hands you hella lemons, you make hella lemonade.
Kim even shared this magical post-show moment between Kanye and DJ Khaled.
He wasn't done yet, though.
Right after the show, G.O.O.D. Creative Director Virgil Abloh posted on Instagram saying Kanye was planning a secret show in New York at 2 am at a mystery location in Manhattan.
Immediately, the internet as a whole sort of figured out Kanye was going to hold the concert at Webster Hall and bum-rushed their way toward the venue before anything was even announced.
Though there was no official count done, I did see someone write in an Instagram comment there were around 4,000 people there. Is that number reliable? For sure no.
The important thing to take out of this is there were a ton of people there, very few of whom were probably going to get into Webster Hall to watch Kanye perform.
So Kanye did the most logical thing he could think of and apparently called Mayor Bill de Blasio in order to have the blocks surrounding the venue closed off to have a 2 am street party.
Obviously, this didn't work.
That didn't stop people from showing up at the hall, though, crowding the streets surrounding the concert venue.
I assume legally there were about 10,000 rules being broken by all of this, which prompted Webster Hall to cancel the concert.
This didn't really work at getting crowds dispersed from the area.
Especially because Kanye showed up around 25 minutes after the concert was canceled.
Aside from the fact the concert was allegedly canceled by Webster Hall itself, there was the added issue that Kanye's car couldn't actually get to the venue itself.
This led to Kanye's caravan doing a weird tour of the fan-flanked Lower East Side trying to find a new place to perform.
Kim tried live-streaming the trek to find a new venue...
... but forgot to turn the sound on.
This guy had maybe the best Kanye interaction during the night.
There were rumors of Kanye trying to do a show down at Trump SoHo, but it never panned out. Eventually everyone went home, and the dream of a Kanye pop-up concert came to a crushing end.
Long story short: A lot of people are going to fall asleep at their work desks today, and God hates Governors Ball.
Citations: Kanye s Surprise NYC Pop Up Shows Cancelled (Pitchfork)