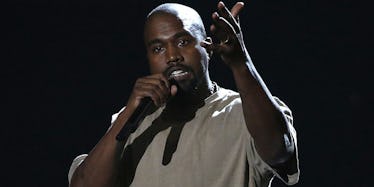 This Clue Proved Not A Single Person On 'Jeopardy' Has Heard Of Kanye West
REUTERS
Kanye West is the most important name in the world you need to know, at least, according to Kanye West. As for everyone else? Well, if this "Jeopardy" episode is any indication, he's really not that important.
During the Friday airing of the popular game show, Kanye's latest album, The Life of Pablo, came up as an answer. Not a single contestant had any idea of what host Alex Trebek was talking about.
Video of the moment Kanye's name was mentioned was captured by one of the recording artist's producers, Mike Dean, who posted the footage of Instagram.
Now, yes, "Jeopardy" seems like it only features contestants who are over 40, who spend way more nights retiring to their studies -- because you know they definitely have studies instead of living rooms -- than they do watching MTV.
But, still, one would think anyone with internet access would have known the name of Kanye's latest album, by sheer virtue of how often his name comes up.
And despite no one getting that clue right, "Jeopardy" actually presented the answer in the most perfect way. Under the category "I'd like to thank..." there was the caption:
Kanye West For Giving Us So Many Different Versions To Choose From Of This Early 2016 Album
And, on that note, it's time for this writer to go listen to all 99 of those versions.