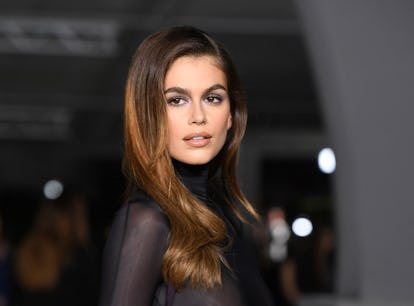 Nepo Baby Kaia Gerber Just Entered The Nepo Baby Chat
"I won't deny the privilege that I have."
VALERIE MACON/AFP/Getty Images
Kaia Gerber is the latest celebrity to share their thoughts about nepotism in the entertainment industry. After following her mother Cindy Crawford's footsteps in becoming a model and actor, Gerber was asked in an interview with Elle whether people have accused her of "having an easier time" getting to the top due to her family ties. The star acknowledged that nepotism does exist, but said relying on one's connections alone won't get you far in Hollywood.
"I won't deny the privilege that I have," Gerber said. "Even if it's just the fact that I have a really great source of information and someone to give me great advice, that alone I feel very fortunate for."
She admitted she's had the conversation before with her mother, but joked that if Crawford "could call and book a Chanel campaign," it would be for her and not Gerber.
The American Horror Stories star went on to say she's grateful for all the connections Crawford has helped her make over the years. "I also have met amazing people through my mom whom I now get to work with," she revealed.
Although Gerber admitted that connections can help with modeling gigs, she thinks the same thing can't be said for acting. "No artist is going to sacrifice their vision for someone's kid. That just isn't how art is made, and what I'm interested in is art," she explained. "Also, no one wants to work with someone who's annoying, and not easy to work with, and not kind."
Gerber ended the discussion by saying that "nepotism is prevalent," but people have blown it out of proportion. "I think if it actually was what people make it out to be, we'd see even more of it," she said.
The star's comments come weeks after New York magazine published a story titled "How a Nepo Baby Is Born," which highlighted just how many celebrities were born into well-known families. Among the featured celebs in the story? Ben Platt, Zoë Kravitz, Dakota Johnson, Lily-Rose Depp, Lily Collins, and Maude Apatow, to name a few. Since, nepo babies like Kate Hudson, Hailey Bieber, and now Gerber have shared their honest thoughts about the noise.