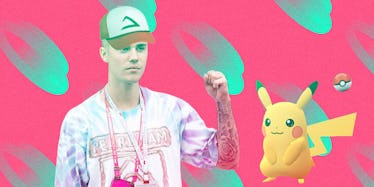 Justin Bieber Plays Pokémon Go, So That Trend Is Basically Over
REX/Shutterstock/Nintendo
Well, Pokémon Go was fun while it lasted.
Unfortunately, it's all downhill from here because it looks like Justin Bieber is getting in on the trend.
Late Sunday night, some dedicated Pokémon trainers were wandering the streets of New York City, searching for Pokémon (like you do).
And who was among the crowd of nerds, also frantically trying to curve that Pokéball?  None other than Justin Bieber himself.
Note: This was not the same crowd that started stampeding in Central Park in order to catch a Vaporean on Friday.
A blurry Twitter video appears to show the 22-year-old singer walking around with other Pokémon fans, with his phone out.
shots: Pokemon in Central Park @justinbieber @alfredoflores (via @camcorderapp) pic.twitter.com/ArTtlrQn6u — JustinBieberCrew.com (@JBCrewdotcom) July 18, 2016
He says to the camera,
Pokémon, gotta catch 'em all!
If this doesn't convince you, other fans also got pictures with the Biebs in the park.
Justin even posted pictures of himself wearing that exact same outfit on his Instagram, so I'd say this is the real deal.
I guess even Justin Bieber has to catch 'em all.
I'm not trying to begrudge the Biebs his Squirtles and Charmanders.
But this is kind of like when all our moms finally got Facebook, and it became a hot bed of memes from 2007 and baby pictures. Pokémon Go just isn't going to be cool anymore.
Oh, well. At least I got a Pikachu first.
Citations: Justin Bieber plays 'Pokémon Go', just like us (Mashable)