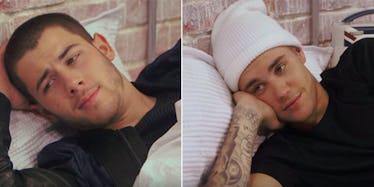 Justin Bieber And Nick Jonas' Parody Of Kanye's 'Famous' Video Is Perfect
YouTube
OK. Woah. I actually can't breathe because I'm so mesmerized by how hot Nick Jonas is.
Sorry, I'm getting distracted. The "Too Close" singer was recently in a hysterical video with Justin Bieber, and I can't stop watching.
The boys starred in a parody of Kanye West's "Famous" music video. So, as you can imagine, things got interesting.
If you haven't seen "Famous" yet, then I'm sure you've at least heard about it. In the video, wax figures of several famous celebrities are lying naked in bed together.
Kanye included everyone from Kim Kardashian to Amber Rose to Taylor Swift. Of course, there was controversy.
But what's the best way to deal with controversy? Make a parody. DUH.
Several comedians like Stephen Colbert and Jimmy Kimmel have already spoofed the video. But now, stars like Nick Jonas, Justin Bieber, Carly Rae Jepsen, 5SOS and Meghan Trainor have done so as well.
In the video above, watch the singers get into bed and have some intimate time together.
Like I said, NICK JONAS IS IN IT, AND HE LOOKS HOT AF. I'll climb into bed with him any day.
Also, Justin makes an appearance. He actually looks pretty adorable in that little white hat. Awwww, JB.
Meghan Trainor added some pretty funny commentary, too.
There are just too many celebs in this video to count.
Kanye West, I hope you're watching this video because it truly is art. You should be very proud of the hard work and dedication these stars have put into creating this beautiful piece. LOL.
Citations: Nick Jonas and Justin Bieber in "Famous" Spoof (Rolling Stone)