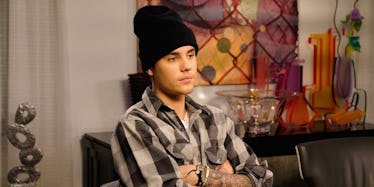 Justin Bieber's Brand New Stepmom Could Basically Be His Sister
Getty Images
Um, welcome to the Bieber family, Chelsey!
It looks like Justin Bieber's father, Jeremy Bieber, just proposed to his girlfriend, Chelsey Rebelo. HOW SWEET.
According to TMZ, the proposal was in St. Barts. Also, Chelsey is only 28 years old.
So, to put that simply, Justin's soon-to-be stepmom is only about seven years older than him. Oh.
Here's a nice photo of the happy couple.
Jeremy is 40 years old, so there is a little bit of an age difference, but it looks like the two are very happy together. CONGRATULATIONS, YOU GUYS!
You can check out the full proposal in the video below.
Justin, unfortunately, was not there for the moment, but at least they recorded it so we can all experience the magic together.
I hope this means we'll all score invites to the wedding!
Citations: Justin Bieber Step Mom (New York Daily News)