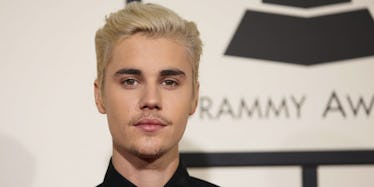 Justin Bieber Canceled His Tour Meet-And-Greets For This Upsetting Reason
REUTERS/Danny Moloshok
Did you pay big bucks for Justin Bieber's Purpose World Tour meet-and-greet package, claiming it was for your little sister when secretly it was just for you?
Well, if so, bad news for both of you guys, because the Biebs announced he is canceling all his backstage meetups with fans.
On his Instagram, the 22-year-old pop star wrote he could no longer do meet-and-greets after his shows because they leave him "feeling mentally and emotionally exhausted to the point of depression." He wrote a paragraph explaining his decision and posted it alongside a painfully adorable photo of him and a young fan.
Justin wrote,
Love u guys.. I'm going to be canceling my meet and greets. I enjoy meeting such incredible people but I end up feeling so drained and filled with so much of other people's spiritual energy that I end up so drained and unhappy.. Want to make people smile and happy but not at my expense and I always leave feeling mentally and emotionally exhausted to the point of depression.. The pressure of meeting people's expectations of what I'm supposed to be is so much for me to handle and a lot on my shoulders. Never want to disappoint but I feel I would rather give you guys the show and my albums as promised. Can't tell you how sorry I am, and wish it wasn't so hard on me.. And I want to stay in the healthy mindset I'm in to give you the best show you have ever seen ;)
So, it sounds like the VIP packages for the Biebs's tour, which run between $900 and $2,000, won't include that crucial meet-and-greet aspect.
Shortly after Justin's announcement, the official Justin Bieber Crew tweeted, explaining the meet-and-greet package was downgraded to a VIP hangout because of a "security scare."
Unlike a meet-and-greet, VIP hangouts do not include photos with Justin.
Justin's crew added folks will NOT get their money back for this downgrade -- unless they want to skip their concerts altogether.
Obviously, a lot of people are pretty bummed out about this.
When you finally get meet and greet tickets for Justin Bieber and he cancels all meet and greets — fallon plociak (@fallonplociak_) March 23, 2016
Finding out Justin Bieber canceled his meet and greet is the most depressing thing that has ever happened to me — mads (@maddyslass5382) March 23, 2016
In his announcement, Justin said he "can't tell you how sorry" he is, but I think we all know what J Bieb fans say to people who say "sorry" too late...
Citations: Justin Bieber Cancels Tour Meet and Greets — Find Out Why (US Weekly)