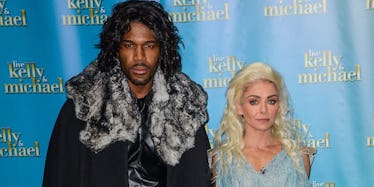 7 Jon Snow And Daenerys Couple Costumes To Slay 'Game Of Thrones'-Themed Halloween
Getty
Halloween is almost here, and it's safe to say that one of the most popular couple costumes of the year is going to be everyone's favorite incestuous couple from Westeros, Jon Snow and Daenerys Targaryen (sorry, Cersei and Jaime). Of course, you've almost definitely seen some Jon Snows in their full Castle Black furs and Daeneryses holding stuffed dragons in past years, but this is the first year the two fan-favorite Game of Thrones characters can actually make for a legit couple costume. At the end of the recently concluded Season 7 of Game of Thrones, Jon and Dany finally became more than just allies, making the couple fans have been shipping for years now a reality. To celebrate the long-anticipated Game of Thrones union, here are some Jon Snow and Daenerys couple costumes for you and your boo to rock this Halloween.
Now, the easiest way to do this is to just buy the Jon Snow and Daenerys costumes online. The cheapest options I've found are on Amazon: This Daenerys costume is only $35, and this Jon Snow one is also just $35. For more options, check out eBay, which has a bunch of Dany dresses ranging from the blue, sleeved one she wore last season for $49, to the black, military dress she wore most of this season for $103. Yeah... you're going to have to pay a bit more to get the current look.
Daenerys Costume, $34-37, Amazon  |  Jon Snow Costume, $31, Amazon  |  Daenerys Cosplay Costume, $49, ebay  |  Daenerys Black Military Costume, $103, ebay 
Though you can definitely find some cheap pre-made costumes online, you might have better luck (and some more fun) making your own costumes. Thankfully, both Jon and Dany's looks are mostly identifiable by their hair, so you might only need to invest in a long white or shaggy black wig to pull off a quick Westerosi makeover. You can probably find a passable blue dress or black shirt and pants combo to pair with your wigs for an easy, lazy version of the costumes.
For a bit more authentic DIY take, poke around your local thrift store for options that look like Jon and Dany's outfits, and get creative with other materials. Recently, the Game of Thrones costume designer revealed Jon Snow's iconic fur cape is actually a rug from IKEA. Wander into the carpeting section, or grab some toy dragons to help complete your looks.
And to really separate yourselves from the rest of the Jons and Danys you'll be seeing on Halloween, maybe think up a humorous twist on the looks. Now that we all know Jon and Dany are actually related, maybe throw on some cheeky nod to the incest, like T-shirts that say "Targaryen Family Reunion" or something like that.