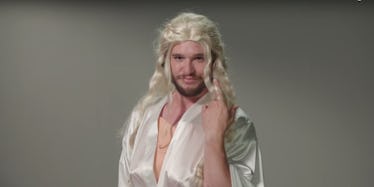 This Video Of Jon Snow Dressed Up As Daenerys, Cersei, & More Will Fulfill Your 'GOT' Dreams
ABC
If you've ever found yourself thinking Game of Thrones would be much better with a lot more Jon Snow, then, boy, have I got a video for you.
Kit Harington took a break from freezing his ass off in the North to embody some of the other major players in Westeros. Even though he doesn't quite nail Cersei Lannister's devilish smirk or Daenerys Targaryen's steely resolve, he sure looks good dressed up as them!
The actor appeared on Jimmy Kimmel Live! for a hilarious bit where he auditioned for a bunch of Game of Thrones roles that aren't Jon Snow. The bit included Harington sporting a regal wig to channel Cersei...
...getting on his knees to personify Westeros' newest assassin, Arya...
...and donning a burlap sack to show off his screaming techniques as Hodor. Although it's sadly a bit too late for Harington to get in on that role.
Harington also tried out for the roles of his on-screen lover Ygritte, a White Walker, and confusedly Harry Potter. But the best moment came when he put on a blonde wig and white robe and seduced the camera as Daenerys.
He even showed off his commitment to one of the things that Game of Thrones loves to show the most: nudity. At the end of his Daenerys audition, Harrington hilariously rips open his robe to reveal a breastplate hanging on his chest.
You can check out the full video of Kit Harington's GOT auditions below:
It may all be fun and games in GOT land right now, but that's all going to change later this week when HBO's fantasy epic finally returns for Season 7 and reminds us of how much everyone we care about is endlessly suffering. Can't wait!
Season 7 of Game of Thrones premieres July 16 on HBO.